Bring Back Your Smile by Getting Tooth Fillings in Owasso
Cavities affect a vast majority of people during their lives. As a metal-free practice, you can get tooth fillings in Owasso that provide an effective treatment that no one can see, including you! Our fillings provide the same benefits as metal ones, but our fillings:
Won't cause allergic reactions or pose long-term health risks
Preserve more of your healthy tooth structure
Can often be repaired if they are damaged
Don't have a metallic look, so they won't stand out in your smile
Dental fillings are an important restorative solution at LakeCrest Dental.  Let us treat your tooth decay with fillings that work well and look great. Call  918-347-1126 today for an appointment. You could save 20 percent by joining our LakeCrest Dental Wellness Plan.
You can prevent dental decay with regular dental cleanings and exams. When you visit us for regular checkups, we can find cavities early. That also means your treatment can be conservative and discreet with tooth-colored fillings that look like a natural part of your smile.
Find Discreet Restorative Options for Larger Cavities Too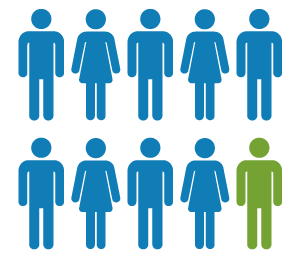 About 9 out of 10 adults in the U.S. have cavities.

Source.

Fillings are among the most common restorative treatments, but they are not the only way to repair your teeth. We offer a number of restorative dentistry services to put your oral health back on track in a visually appealing way. You may have a cavity that's just too big to fix with a regular filling. In cases like this, we might suggest:
A Dental Crown – After removing the decay from your tooth, we can reshape it to support a crown.
An Inlay – When a crown might be more than you need, you can get an inlay to cover the portion of your tooth that has been damaged. Like crowns, inlays blend in naturally with the color of your tooth.
An Onlay – These are similar to inlays, but onlays are used to cover the biting surface and sides of your tooth.
If you think you have cavities, don't wait to get your beautiful tooth fillings in Owasso! Call 918-347-1126 or schedule online to make your appointment at LakeCrest Dental.